The Benefits Of Being Accredited
   We will not accredit a business who is not able to achieve the minimum entry rating
We will not accredit a business who is not able to achieve the minimum entry rating.
There are many trade bodies that accredit businesses in the UK. What makes our accreditation special is that we take time to really check out each and every business.
We follow the 10 steps on the 'Ratings Explained' page (click to see here) to verify and rate the business applying for accreditation, ensuring  that your customers have an independent source to give them valuable, accurate information about your business, rather than a website where fake reviews can be left.
Some trade organisations do not give a business a rating but only an accreditation; we give our business listings an accreditation, a review and a rating, to give your customers complete confidence in your services.
Every year, we will test out your products and services to check you are maintaining standards, and your rating will go up or down depending on our findings. This encourages businesses to maintain their high standards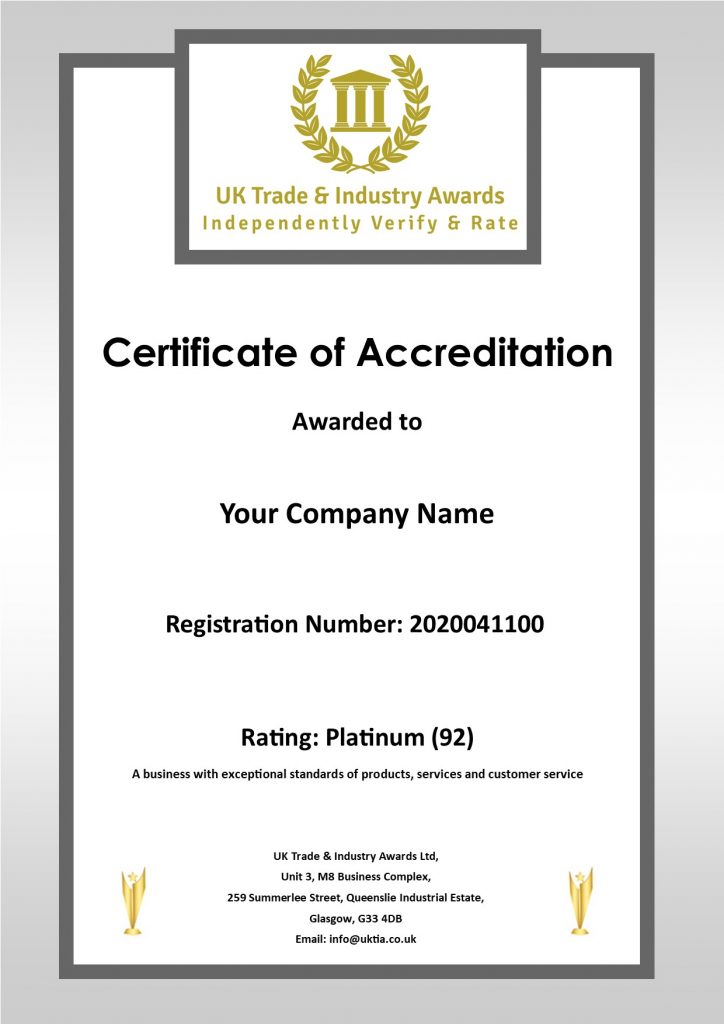 The only review on a business listing will be an impartial and independent review by UK Trade & Industry Awards Ltd, so there will be no damaging fake reviews left by an unhappy competitor.
You will receive a PDF certificate with your registration number and a page on this site with your rating. You are welcome to share and link to your page.
We will send you our accreditation logo with your registration number on it, which you can use on all your business documents, vehicles, website, shops and premises.
All businesses listed will also be entered into the annual awards and finalists will be able to attend the award ceremony where the top 5 businesses in each category will be awarded for their outstanding work and customer satisfaction. There will be a winner for each category and then the other 4 businesses will be given a runner up award.
All businesses who make it to the final will be given a finalist's award.